Tricia has been an Independent Beauty Consultant with Mary Kay Cosmetics for over 12 years. The communication and teaching skills she uses in her own business easily carried over to her role as a firearms instructor. She began her shooting career with Fortress Defense in June 2012 and hasn't looked back. She quickly earned her NRA Instructor Certification and a few short months later graduated from Rangemaster's Instructor Development Program. Tricia is now a Staff Instructor with DTI, as well, and assists Vicki Farnam on a regular basis – And she is part of the team at
PrettyLoaded.org
!
Tricia assists in our Women's Self-Defense Course, Defensive Pistol (Intro, Level I & II), Force-on-Force, Rifle, and contributes to Speaking Engagements we provide to the community. In addition to her passion for teaching skin care and defensive shooting; Tricia is an avid hiker, competes in triathlons, volunteers at a local art gallery, and fosters dogs through an animal rescue.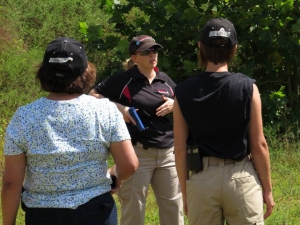 Firearm and Tactical Schools Attended
Fortress Defense Consultants
Frank Sharpe, Jr.
Women's Self Defense (non-firearm)
Basic Firearm Safety
Women's Introduction to Defensive Pistol
Defensive Pistol Level I & II
Defensive Pistol – Couples
Emergency Treatment of Gunshot Wounds
Active Shooter Response
Force On Force
Defensive Rifle Level I
Shotgun
Utah Concealed Carry Course
Defense Training International (DTI)
John & Vicki Farnam
Pistol
Urban Rifle
Armed Vehicle Defense
DTI Instructor Course
The Massad Ayoob Group
MAG-20: Armed Citizens' Rules of Engagement
Rangemaster (RFTS)
Instructor Development Course
Firearm Instruction Certifications
National Rifle Association (NRA)
Certified Pistol Instructor
Personal Protection Inside The Home
State of Illinois
Concealed Carry Firearms Instructor
Defense Training International
Professional Organizations
National Rifle Association (NRA), Life Member
Armed Citizen's Legal Defense Network
Illinois State Rifle Association (ISRA)
Second Amendment Sisters