Date & Time
Date(s) - 02/27/2021
All Day
Location
St Joseph County Conservation Club
Fortress will be offering our 4-Hour Cold Weather Handgun Class at the St Joseph County Conservation & Sportsman's Club, February 27th.
Ages 18, and up.
This class is reserved for those who have attended a Fortress Level I Pistol Class, a DTI Basic/Intermediate Pistol Class, or have been personally cleared by Jeff Brazo as being properly training in draw stroke and range safety.
Don't email us asking if the Michigan or Utah or Illinois or Ugandan Concealed Carry Course you took is sufficient for attendance – It's not.
Cost is $95 (plus $10 range fee. $105 total)




Should you experience issues with the above buy now button, click HERE and check out as a guest using your credit card.
We also need you to click HERE and complete a student sign up sheet.
Paypal fee of 3% is non-refundable. If you would like to avoid that possibility in case of cancellation, a check or money order can be mailed directly with Student Sign Up Sheet to our mailing address:
Fortress Defense
905 Joliet Street #162
Dyer, IN 46311
Don't forget to click the red sign up button on the upper right side of this page and fill out the student sign up sheet, or, print out and send in with your check payment.
For directions and hotel info contact Jeff Brazo, email: palsticman04@gmail.com
Class size is limited – sign up immediately to hold your spot!
Question: Why would I want to train in the cold?

Answer: We don't get to chose the who, what, where, when, or why of our next gunfight. We spend far too much time training in controlled climate conditions while we carry daily with layers of clothing walking through snow covered parking lots.

WE NEED TO TRAIN FOR THE CONDITIONS WE WILL FIGHT IN.

Recommended hotel:
Holiday Inn Express
45 750 N
Howe, IN 46746
(260) 562-3660
There is also a Hampton in in Howe, as well as lodging in Three Rivers, MI – all are within 15-minutes of the range.
St, Joseph County C.C. is on EASTERN time! We start class at 11am EASTERN on Saturday.  We will be finished by 3pm EST Be there at least 15min early.
We meet in the morning at the clubhouse!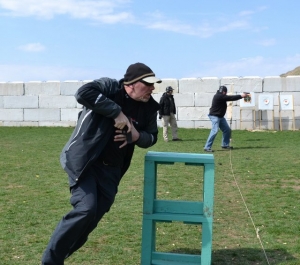 What you will need:
– Your daily carry pistol in a belt carry holster, along with a spare magazine stowed in a belt carrier or a pocket.
– The winter gloves you normally wear, and any other pairs of gloves you think you might wear in the winter.
– Warm layers of clothing. You can always remove layers, but you can't add layers you don't have with you.
– Food and beverages for the duration.
– You might consider a few pocket hand warmers.
– Hearing and eye protection, as well as a brimmed hat.
– 100 rounds of pistol ammunition. (More is better)
– Secondary/backup guns are allowed and encouraged, but not necessary.