Date & Time
Date(s) - 08/22/2020
9:00 am - 2:00 pm
Location
TBA
Fortress is offering our 5-Hour Emergency Wound Treatment Class, August 22, in Crete, IL.
Cost $165 per student – Includes personal wound treatment kit to take home. (Not pictured)
Ages 18, and up.



Should you have issues with the above buy now button, click here.
You do not need a Paypal account to pay with Paypal. Follow the link, scroll down, and check out as a guest using your credit or debit card.
Please click on the "Sign up for this class" link on the upper right of this page and fill out a student sign up sheet.
Address will be emailed to you upon sign up.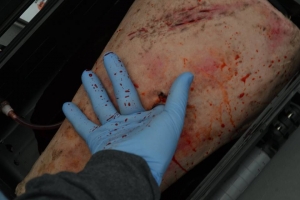 What you will need:
1 – Pocket knife
2 – Safety Glasses
3 – Note taking materials
4 – Snacks, beverages, lunch whatever you need to survive the day.
5 – And old t-shirt, towel, or pair of pants you can rip up.