Date & Time
Date(s) - 03/13/2021
9:00 am - 2:00 pm
Location
TBA
Fortress is offering our 5-Hour Emergency Wound Treatment Class, Saturday, March 13, in Crete, IL.
Cost $195 per student – Includes personal wound treatment kit to take home. (Not pictured, but includes an Israeli Battle Dressing, CAT (tourniquet), a nasal airway, and 14ga needle)
Ages 18, and up.
Should you have issues with the above buy now button, click HERE
You do not need a Paypal account to pay with Paypal. Follow the link, scroll down, and check out as a guest using your credit or debit card.
We also ask that you fill out a Student Sign Up Form – Click HERE to complete it.
Address will be emailed to you upon sign up.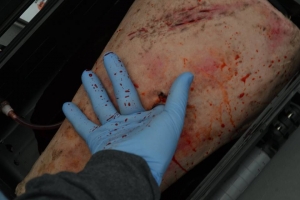 What you will need:
1 – Pocket knife
2 – Safety Glasses
3 – Note taking materials
4 – Snacks, beverages, lunch whatever you need to survive the day.
5 – And old t-shirt, towel, or pair of pants you can rip up.
Class is slated for 5 hours, we will probably run over that.