Date & Time
Date(s) - 07/08/2023 - 07/09/2023
12:00 am
Location
St Joseph County Conservation Club
Fortress is offering our Firearm Instructor Development Course, July 8/9, 2023 (Includes night shoot)
This class focuses on teaching the basics to new students, as well as the presentation of advanced lessons for accomplished shooters. You'll learn the tips, tricks, and diagnostic methods you need to correct shooting issues, as well as illustrate, explain, and demonstrate the applications to students.
We are ALL Instructors – whether we want to be, or not. As practitioners of our Art, there will always be someone who requires our assistance with purchasing, handling, or deploying their firearm(s), and we, ready or not, will be called upon to help. This class is for anyone who appreciates that reality.
If you're an NRA Instructor, a gun shop/range employee, a CCW Instructor, run your own shooting school, or simply a firearm owner who wants to be able to help their own friends and family avoid accidents and hit their intended targets, you're ALL invited to attend!
Topics:
– Effective instruction of female students
– Diagnosing shooting problems
– Teaching sight alignment and trigger control.
– Range safety
– Working with co-instructors
– Lesson plans
– Difficult students
– Emergency range plans
– Presenting information/adult learning
– Communication skills/public speaking
– Running a firing line/range commands
– Planning and executing a night shoot
…and MUCH more!
The main focus of this course will be defensive pistol oriented, but we will touch on defensive rifle and shotgun, as well.
Class includes a night shoot on Saturday. 20 class hours, total.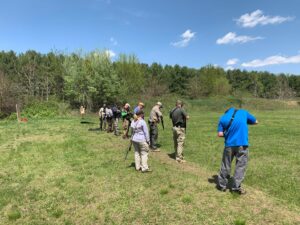 Cost is $425 per student
Easy two-step sign-up:
#1 – Submit Tuition (separate payment of $425 for each attendee)
Click HERE for payment link for credit or debit card
There is a NON-REFUNDABLE 3.5% processing fee when paying with credit or debit card. If you would like to avoid that possibility in case of cancellation, a check or money order may be mailed directly, along with a completed Student Sign Up Sheet, to our mailing address:
Fortress Defense
905 Joliet Street #162
Dyer, IN 46311
Checks must be received 10-days before class time. If this is a last minute sign up and you'd like to pay by check, please contact us for instructions on how to do so. 708-522-8060 frank@fortressdefense.com
#2 – Fill out a Student Sign-up Sheet.
Click HERE to submit a student sign up sheet.
Ages 18. and up.