Date & Time
Date(s) - 08/28/2021 - 08/29/2021
All Day
Location
St Joseph County Conservation Club
Fortress is offering our only 2021 Level II Handgun in the Midwest, August 28/29, in Sturgis, Michigan.

This is the class that puts students and their equipment to the test. You will run one-handed shooting, re-loading, and stoppage reduction drills, both strong side and support side.  Use of cover is heavily emphasized. Shooting while injured, dealing with bystanders, transition to secondary pistols, and an extremely challenging night shoot are all part of the fun!
Prerequisite : YOU MUST BE A GRAD OF THE FORTRESS LEVEL I HANDGUN OR DTI BASIC HANDGUN TO ATTEND!
Ages 18, and up.
Cost $385 per student.



If you have any issues with the Buy Now button, please click HERE
You do not need a PayPal account to pay through PayPal with a credit card.If you're having problems with the above Buy Now button, click HERE for a direct link. Scroll down to the pay with credit card button and check out as a guest.
Paypal fee of 3% is non-refundable. If you would like to avoid that possibility in case of cancellation, a check or money order can be mailed directly with Student Sign Up Sheet to our mailing address:
Fortress Defense
905 Joliet Street #162
Dyer, IN 46311
Don't forget to click HERE and fill out the student sign up sheet, or, to print one out and send in with your check payment.
For directions and hotel info contact Jeff Brazo, email: palsticman04@gmail.com
Class size is limited – sign up immediately to hold your spot!
You'll need at least 500-rounds for your primary pistol, and 100-for your secondary (back up) pistol.  (but bring more if you can – round count is determined by how many times YOU decide to run the drills.)
We understand the difficulties the present ammunition situation presents. We also understand that you're one of us, now, and will make it happen.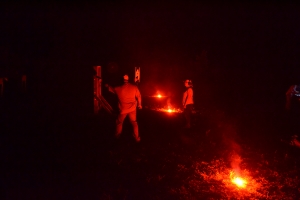 Hotel Information:
Holiday Inn Express
45 750 N
Howe, IN 46746
(260) 562-3660
There is also a Hampton in in Howe, as well as lodging in Three Rivers, MI – all are within 15-minutes of the range.
St, Joseph County C.C. is on EASTERN time! We start class at 9am EASTERN on Saturday. [Your hotel 10-minutes away, might be on Central time – don't let it trick you!]
You will need a packed lunch both days, as well as dinner on Saturday.