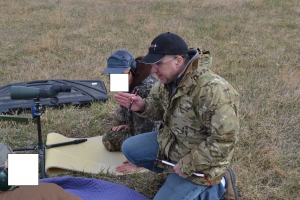 Angelo has been a firearms instructor for over 14 years. As a senior staff instructor for Defense Training International (DTI), he has trained thousands of military, police, and citizens in the art of defensive firearms. Angelo currently holds the world record for .50BMG "Hunter Class" 9 1/16" 5 shot group at 1000 yards. This record was set with stock Barrett M82.
After 20-years as a master machinist, Angelo now spends his time off the range as a helicopter Flight Instructor.
Firearm And Tactical Schools Attended
Defense Training International (DTI)
John & Vicki Farnam
Pistol
Rifle
Shotgun
Armed Vehicle Operations
Scenario-Based Training
Instruction of Female Students
Tactical Medical
Instructor Program
Yavapai Firearms Academy, Inc
Louis Awerbuck
Strike Tactical
Henk Iverson
Armed Vehicle Operations
Gunsite
Ken Vogal
Armed Vehicle Operations
Badlands Tactical
Level One Sniper
Level Two Sniper
Level Three Sniper
Steve Tarani
Doc Gunn, Inc.
Tactical Medical/Treatment of Gunshot Wounds
Firearm Instruction Certifications
Defense Training International
Affiliate Instructor/Staff Member
National Rifle Association (NRA)
Certified Pistol Instructor
Personal Protection Inside the Home
Range Safety Officer
Professional Organizations
International Law Enforcement Educators and Trainers Association (ILEETA)