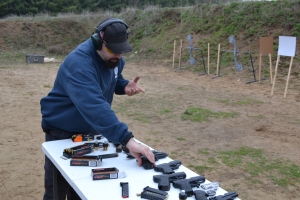 Chuck works in Facility Operations and has been a Nationally Certified & IL Licensed Massage Therapist since 1998. His passion for teaching (Massage Therapy Program Instructor) and experiences as a workplace trainer carry directly over to his role as a firearms instructor. He began his training with Fortress Defense in 2011, quickly acquired his NRA Instructor Certification and DTI Instructor certifications. Chuck continues his training and education on a regular basis with many renowned personal defense instructors nationwide.
Firearm and Tactical Schools Attended
Fortress Defense Consultants
Frank Sharpe, Jr.
Emergency Treatment of Gunshot Wounds
Defensive Pistol Level I
Defensive Rifle Level I
Open Hands/Defensive Blade
Force On Force
Defense Training International (DTI)
John & Vicki Farnam
Pistol
Urban Rifle
Instructor Program
Henk Iverson Tactical Systems (HITS)
Personal Defense Tactics
Defensive Pistol Level 1
Concealed Handgun Defensive Tactics
Force on Force/Scenario based training
Rangemaster (RFTS)
Instructor Development Course
Massad Ayoob
Armed Citizens' Rules of Engagement
J.C. Marshall Firearms Training
Utah Concealed Carry Course
Firearm Instruction Certifications
National Rifle Association (NRA)
Certified Basic Pistol Instructor
Personal Protection Inside The Home
State of Ilinois
Concealed Carry Firearms Instructor
Defense Training International (DTI)
Professional Organizations
National Rifle Association (NRA)