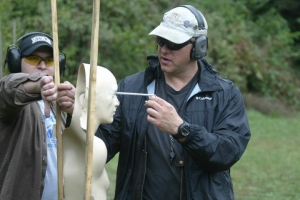 Frank has been a firearms instructor for over 15 years. As a senior staff instructor for Defense Training International (DTI), he has trained thousands of citizens, police, and military in the art of defensive firearms, and is the author of the DTI Instructors' Standards Manual. Frank specializes in the effective instruction of female students and regularly speaks on defensive issues for women's groups and community watch organizations.
His articles are also regularly published on the web, and are first found at Guns Save Life.
Defense Training International (DTI)
John & Vicki Farnam
Pistol
Revolver
Rifle
Shotgun
Armed Vehicle Operations
Scenario-Based Training
Instruction of Female Students
Tactical Medical
Instructor Program
Yavapai Firearms Academy, Inc
Louis Awerbuck
Pistol
Rifle
Shotgun
Instructor Problem Solving
Rifle Instructor Course
Strike Tactical
Henk Iverson
Tactical Pistol Level 1
Armed Vehicle Operations
Defensive Blade
Tactical Defense Academy
Ben H. Mangels
Gunsite
Ken Vogal
The Massad Ayoob Group
Mag-20: Armed Citizens' Rules of Engagement
Badlands Tactical
Steve Tarani
Doc Gunn, Inc.
Tactical Medical/Treatment of Gunshot Wounds
Midwest Training Group
Kubotan/Weapons Retention and Take Away
The Moulage Medic
Tactical Combat Casualty Care
Attorney Andrew F. Branca
Law of Self Defense Level 1 (IL/WI)
Law of Self Defense Level II (IL)
Firearm Instruction Certifications
Defense Training International
National Rifle Association (NRA)
Certified Pistol Instructor
Personal Protection Inside the Home
Personal Protection Outside the Home
Range Safety Officer
Aimpro
Tactical Shotgun Instructor
YAVAPAI/Awerbuck
Rifle Instructor Course
Shooting Problem Diagnostics
Bank Miller
Tactical Training Associates
Weapon Retention and Disarm Instructor
Rangemaster/Tom Givens
Firearms Instructor Development & Certification Course
ILEETA
Dynamic Airsoft Instructor
Armorer Certifications
Mossberg Shotgun
Glock Pistol
DSA FAL/SA58 Rifle
AR15
Professional Organizations
National Rifle Association, Life Member
Gun Owners Of America, Life Member
Armed Citizens' Legal Defense Network, Life Member
Second Amendment Foundation, Life Member
Second Amendment Sisters, Life Member
International Association of Law Enforcement Firearm Instructors (IALEFI)
International Law Enforcement Educators and Trainers Association (ILEETA)
National Concealed Firearms Instructors' Association