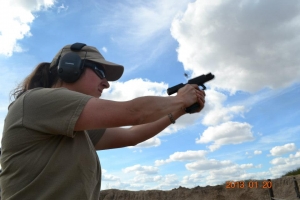 Fortress' staff understands the apprehensions women students may have with regard to firearms. All of our staff have been trained in the Effective Instruction of Female Students by Vicki Farnam, and are ready to address all questions and concerns in a calm, professional manner.
We provide a comfortable, low-pressure learning environment which progresses to the next step only when you are ready. Our Women's Defensive Pistol course is designed to take the beginner – who has never fired a shot before – to the level of skilled markswoman, capable of defending herself with a firearm in a defensive situation.
We attempt to provide a staff member for every 2-3 students to provide the most personal instruction experience possible. If requested, a female instructor will be available to assist female students.
Required student skill level: None
Equipment required: Functional handgun, .380 caliber or larger. At least 3 magazines or speedloaders. Proper holster and magazine or speedloader carrier. Flashlight.
Ammunition requirements: 400-rounds factory ammunition (for two-day courses)
Duration: Client requested 1 or 2 days
(2-day courses are recommended in order to address all teaching points thoroughly!)
Contact Fortress with questions regarding holsters and equipment.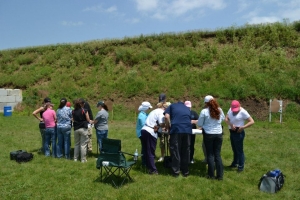 Choosing a firearm/sizing it to your hands
Holster selection/carry methods
Basic gun/range safety
Sight alignment
Basic mechanical operation of your pistol
Techniques for charging magazines
Techniques for manipulating and locking the slide to the rear
Proper grip and stance
Trigger control
Draw from holster
Loading/unloading
Movement
Anatomy and the physical effects of bullets on the body of an attacker
Fight avoidance and disengagement techniques
The psychological and legal aftermath of a defensive shooting
Maintenance, storage, and transport
Low light/night shooting
Flashlight techniques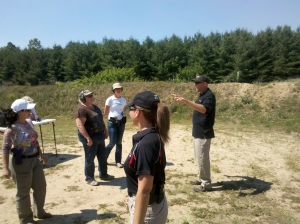 We will travel to you and train your group on your personal range, or in home. Contact us for scheduling and pricing. Group rates available!
Pistols and equipment can be provided for rent with advance notice. Click here for rates and details.
Laws regarding handgun ownership and carry rights vary greatly from state-to-state and each jurisdiction has its own rules and regulations. Fortress recommends that you consult with your own state's Attorney General's office before purchasing any firearm, or before you attempt to carry a handgun. Many find http handgunlaw.us to be a good resource, as well. Please remember that laws and statutes regarding firearms change almost daily throughout the United States; it's up to you to know the law!
"I succeed on my own personal motivation, dedication, and commitment. My mindset is: If I'm not out there training, someone else is." – Lynn Jennings