Product review: Dene Adams Classic Concealed Carry Tactical Leggings 
Most firearm related products are designed for a specific demographic end user, large to mid-framed males who are right handed! Women's needs with firearms, and especially daily carry, are at best an industry afterthought.
I've made it a personal mission to remedy the neglect, however, it's proved a molasses-slow process. Trial and error, products bought and returned, suggestions made and ignored; it's a constant stream of disappointment. So, imagine my elation when I discover a carry product for women that actually works!
The Concealed Carry Tactical Leggings by Dene Adams are a product that works! But, let me tell you how well…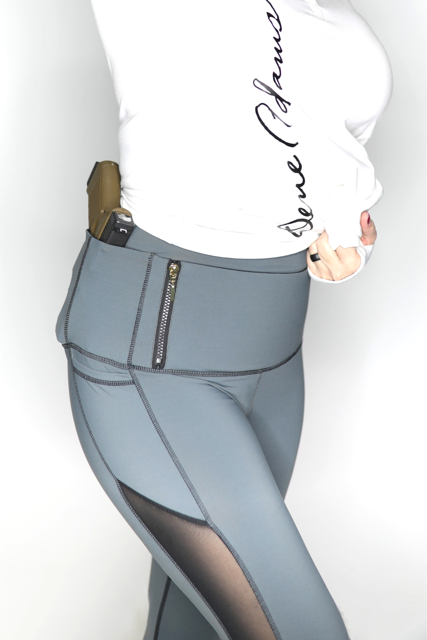 The leggings are comfortable, high waisted, and designed by a woman (Anna Taylor, Founder & CEO of Dene Adams). They remain stylish while featuring supportive compression in the areas designed for holding the firearm. (Read: keeps the gun and the waistband of your leggings from sagging!)

Every pair of leggings comes with a removable, universal holster pouch which covers the trigger guard, and fastens into your desired placement and position. Right handed, left handed, appendix, kidney, forward canted, rearward canted, etc. – The choice is yours! There is also a custom full-shell kydex insert available as an add-on option for those desiring a gun specific holster rather than the generic pouch.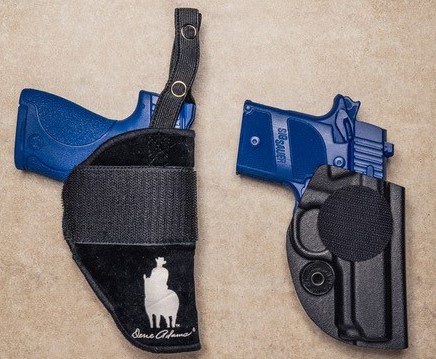 The firearm rides in what I'd call a "high appendix" position, which is generally the most comfortable waist position for women to carry. But, the design also allows for "kidney carry" should one opt for it. There is room for spare magazines, a flashlight, a blade, and/or pepper spray. There are also two vertical zippered pockets that go all the way across (one in front and one in back) for securing your ID and cash, etc…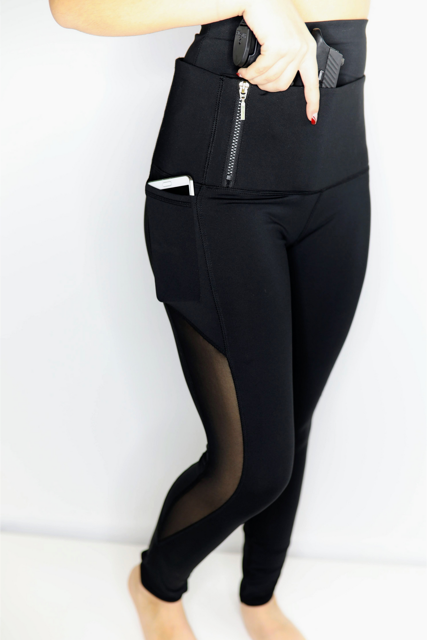 They have two additional side pockets located about mid-outer thigh on both right and left sides which will easily accommodate a cell phone. (I didn't not carry my phone in the side pocket during my run. I used the rear zipper pocket for that.)
I wanted these leggings to hold my gun while running. The first time I tried them on I knew they'd hold a gun without issue for just walking around, but, what about on a jog? That's the real test.
I carry a S&W M&P Compact, which, in my opinion, isn't a small or lightweight gun. Would the leggings keep the gun in place? Would it shift? Would it bounce around? How secure is it really going to be? I'm pleased to say that these leggings passed ALL the tests with flying colors! My gun did not budge! (Full disclosure, I'm not a very fast runner and this test did not involve doing sprints. For a moderate run they worked great!)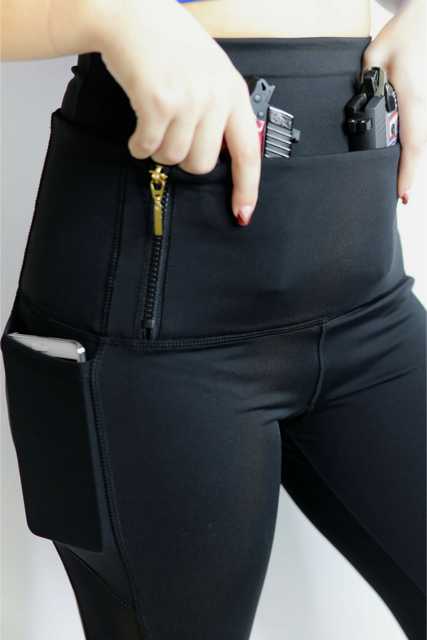 As with any new carry method, I strongly recommend practicing drawstroke and holstering before carrying a live pistol in public. The time to learn how to do so is not the moment of attack! The wise will purchase a "blue gun" replica of their make and model gun to rehearse with.
I'm so excited to add this carry option to my wardrobe – they solved a major issue for me, and they just might for you, as well!
Check them out at the link below!
Tricia Ellison
Fortress Staff Instructor
DTI Affiliate Instructor
Presenter, Pretty Loaded