"It is not a daily increase, but a daily decrease. Hack away at the inessentials."   – Bruce Lee
We recently presented a Level I Rifle Course in the Midwest, and as is our norm, we request that students arrive with a semi-automatic (auto-loading), magazine-fed, military pattern rifle. We see many styles and calibers of rifle, but as one might expect the common choice is AR15 variants chambered for 5.56 NATO – and this class was no exception. In fact, all 10 students had an AR15 of some sort! The majority were manufactured by JP Enterprises of Hugo, Minnesota, and ran just fine. Our recommended list of AR15 manufacturers includes, DSA, Rock River, Daniel Defense, Smith & Wesson, and now JPE. [However, JPE is not famous for their discounts. Base models are listing at $1900!]
12 years ago we could count on 50% of the AR15's on the firing line going down on the first day.  Generally, lack of lubrication, a broken extractor, or a broken extractor spring were the common issues.  Occasionally we see things like frozen ejectors, buffer retainers dislodged and loose barrels, but the majority of issues were extractor related.  These days, with CNC machining, CAD engineering, and the addition of a "D-ring" to the extractor spring, it seems like most the AR15 reliability issues have been addressed. We still see occasional problems, but they are not the norm when one acquires a rifle from a reputable company.
As is our standard practice, at the beginning of class our Staff Instructors inspect each firearm before a shot is fired. We check function, and inspect for lose sights and screws, broken parts, and other obvious problems. On this day one of our student's rifles "fired" as the trigger was reset. The rifle in question was a "Frankengun", meaning it had been assembled at home in kit form from available parts, and had yet to be test-fired. We asked everyone to don hearing protection, loaded the rifle and then attempted to fire. All three of our Instructors were able to produce "full-auto" bursts as the trigger was reset!
Not having time to delve into it further, the student was given a loaner rifle and continued on with training. We assume it was a disconnector/trigger group issue, most likely from worn or non-milspec parts being thrown together during assembly.
Function checking is a mandatory part of all firearms cleaning and maintenance procedures – only the foolish would take a gun apart, reassemble it, and then expect their life to depend on it without being sure it will go bang! In this case, the rifle would go bang when the operator didn't want it to – an arguably worse position to be in during a fight! Our student had no idea there was a problem, but we're sure he'll be checking such things regularly from now on!
The next problem occurred with one student's Trijicon SRS [Sealed Reflex Sight] optic. The SRS is a "red dot" sight powered by AA batteries that alternate with SOLAR power provided by a cell located on the top of the sight body. To be honest, this was the first time any of our Staff had seen one in a course – with a list price of over $1000, they are not in common usage, but this day we had THREE!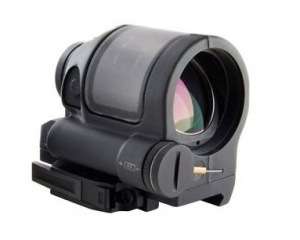 Our experience was less than gratifying as one immediately quit working during the first 15-minutes of zeroing. It was replaced with a spare and no other problems were witnessed, but if we average it out, 25% of the ones we've now seen have broken. Obviously it's hardly a scientific study of the optic, but for $1000 it should come with its own Trijicon repair technition!
While we're on the subject, we are not proponents of magnifying optics mounted on battle rifles/carbines. When one uses magnification it reduces the field of view (amount of real estate one sees through the optic), and in a close quarters/short distance fight, this can prove slow and confusing.
We prefer zero magnification with our red dot/holographic sights mounted as far forward as possible. Back up iron sights (BUIS) are also a must for all serious rifles, and we suggest that they "co-witness" with the optic – meaning they can be viewed and used through the lens of the optic. It is also imperative that the optic be mounted on a quick release mount. Far too often we've seen lenses fog or FROST over, rendering both the optic and iron sights useless. The optic must be immediately removable in such emergency circumstances.
Next, a few students learned something about thermodynamics. Aluminum handguards are quite popular on AR15's these days, as they can be milled with rails in all possible positions. But one thing that can be overlooked by manufacturers and owners alike is proper heat dissipation.
During high volumes of fire many aluminum handguards will transfer barrel heat and retain it beyond the pain tolerance of the operator's hand, and a few such instances occurred with student's rifles in this class. We were assured they would be making the necessary changes to remedy the problem.
Students also enjoyed a number of sling issues and other minor equipment failures, but true learning only occurs through failure. We have to take ourselves and our gear out and test it like it will really be used – and with that we have to be willing to accept that what looked good on the showroom floor might not be what we really need to get the job done. This also requires us to allow for small fractures of our egos and pride. None of us want to admit we spent money on the wrong gear, or that we've made a poor choices. But better we spend money on a new sling than needlessly pay the ultimate price with our lives.
The question we must all ask ourselves when we are choosing gear is: Who are we trying to impress – Our friends or our enemies?
"Spectacular achievement is always preceded by unspectacular preparation."   – Robert H. Schuller
-Frank
JP Enterprises, Inc.
P.O Box 378
Hugo, MN 55038
651-426-9196
rifles@jprifles.com
D-Rings
MG Industries, INC.
P.O. Box 138
Old Town, ME 04468
Tel: (207) 817-3280
Fax: (207) 817-3283
E-Mail: MGI@MGImilitary.com