In 1980 Glock Ges.m.b.H was formed in response to an official invitation form the Austrian military to submit a new pistol design for trials. The corporation was a subsidiary of Glock, KG, a manufacturing company founded in 1963 by the brilliant engineer, Gaston Glock, whose specialty was innovation in polymers.
Having no experience with firearms, Gaston assembled an expert consulting and design team, and within 3-months produced a functioning prototype. A year later the Glock 17 (G17) was born (the "17" referring to the 17th patent Gaston had been granted in his career), and in 1983 the polymer, striker-fired, "Safe Action", 9mm became official pistol of the Austrian Army!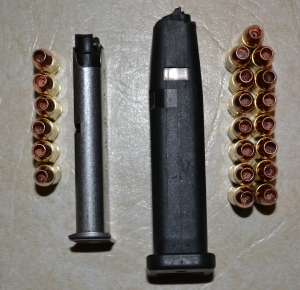 Kahr Arms PM9 single column magazine – left.
Glock G19 double column magazine – right.
In 1985 the 17 became commercially available in US, and quickly absorbed a huge share of the police and citizen market. In 1988 the G19 was introduced, a compact version of the 17. Then, in response to the demand for even smaller carry pistols, the G26 subcompact was released in 1995.
The 17, 19, and 26 are all chambered in 9mm, and feature double column magazines. The double column magazine, by its nature, requires a wider grip/frame, and is not the most concealable design for many who carry daily. Since the introduction of the 26, many Glock aficionados have wondered why Glock has not offered a single column magazine carry pistol in 9mm.
Glock, no doubt realizing the market share they have been losing to such pistols as the Smith & Wesson Shield and the Ruger LC9, introduced the G43 this year. …Of course, about two decades after the first request from customers, but better late than never!
The Glock 43 is a single column 9mm based on the same striker fired design Glock is famous for. Designated as a Subcompact Slimline, the 43 measures 6 ¼" long, 4 ¼" tall, an inch wide, and weighs 1.2 lbs unloaded, which makes for a VERY concealable package.
As with everything in this business, you don't get something for nothing – to create such a small, thin pistol, one gives up capacity.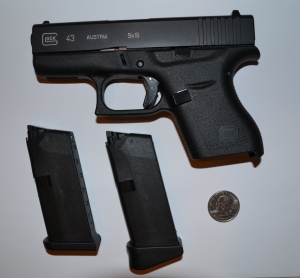 The G43 with the standard and extended baseplate magazines.
But, with 6 in the magazine and one in the chamber, it's right in line with most other carry pistols of its class.
The pistol comes with two magazines – one flat base plate version, and one with a finger extension baseplate. Recoil is quite minimal for such a small, light pistol, however, in my case the leverage that the finger extension baseplate offered made all the difference in being able to control the pistol for fast follow-up shots.
Spare Factory magazines are not cheap – $30 for the standard, and $36 for the extended baseplate versions. And as per my normal recommendation of 10 spare magazines for each pistol you own, that constitutes a bit of an investment.
MSRP for the 43 is $580, but are regularly advertised in the $450 range.
Holster manufacturers are still catching up – Comptac, and most others, are providing at least one or two their more popular holsters for the 43. Flashbang is offering their famous bra holster for it, as well.
The pistol is reasonably comfortable to grip; even those that dislike the Glock ergonomics may find this one more agreeable (note the absence of finger grooves molded into the grip.) Shooters with smaller hands should definitely consider it as an option.
Accuracy is often a topic with such firearm reviews as these, and one that I think is given far too much credence, as most modern defensive firearms are far more accurate than 99.8% of the people buying them. "Accuracy testing" makes for good copy and gives people something to argue about on the internet, but for our purposes most pistols produced by reputable manufacturers will get the job done regardless of their ratings by gun publications.
That being said, here are a couple of pictures of my first time out with the 43. (I stress that this is my personal pistol which I purchased. I get nothing for free from Glock.) No sand bags, chronographs, break in shots, or warm-up targets were employed.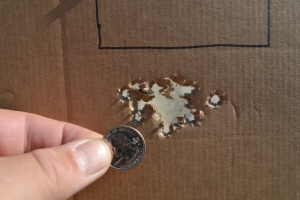 Author's 49-round group from 4-yards. Shots were accomplished "rapid fire", standing, with movement off the x after every 4 shots and with each reload. No stoppages, gun ran perfectly.
I stress thorough testing of all guns and accoutrement that our lives depend on, including our daily carry defensive ammunition. Yes, firing some rounds of your high performance hollow points will cost a few dollars, but simply hoping your ammunition will feed in your gun the moment your life depends on it is the work of amateurs.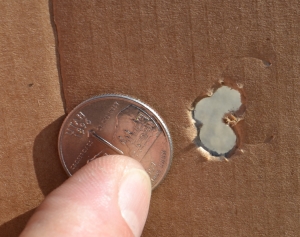 Author's 5-shot group of Corbon DPX from 4-yards, slow fire. DPX is his preferred carry load, and the 43 digested it without issue.
First day out I ran approximately 250-rounds through the pistol and experienced no mechanical problems. My routine with new carry guns is to get them as hot as possible as quickly as possible. Generally, if there is going to be a failure, heat will expedite its occurrence. 200-rounds fired as fast as magazines could be charged by an assistant most certainly resulted in the desired effect.
Overall, I found the G43 to be exactly what I would expect from Glock, and was actually surprised at how well recoil management was engineered in such a small, light package. The trigger is factory set at 5.5lbs (mine seems a slight bit heavier – perhaps my imagination) and reset is the crisp, sharp snap-in that Glock is known for. The only negative issue I could come up with is that factory night sights are not yet available.
Being that the 43 is still a relatively new offering it might be best to wait 6-months, or so, before purchase just to see if any problems or recalls occur, but I doubt we'll hear of any. I'll continue to try to break mine – Should I have success, I'll report back!
Looks like Glock has another winner!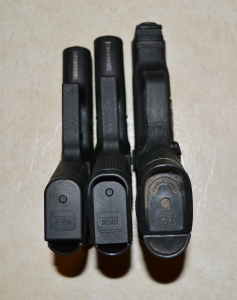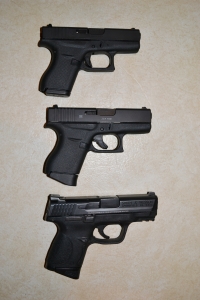 The G42 (.380), G43, and Smith & Wesson M&P Compact shown for size reference. The S&W uses a double column magazine.