I purchased a couple of DSA SA-58 rifles (the American FAL) during the "assault weapons ban" of the 90's/early 2000's, and, thus, they came without flash suppressors or threaded barrels.
The model I bought was the Medium Contour Tactical (MTC), which amounted to a 16″ fluted barrel with a shortened gas system.
Over all, that set up worked well for me, and shaved a bunch of weight off the front of the rifle.
FAL's are known to be boat anchors, and the MCT ended up weighing only a few ounces more than my AR15s, which was great…except when fielding them at night.
The muzzle flash amounted to a miniature super nova – well, maybe not that bad, but at least a propane grill flash – intense to the point that I knew I had a "one shot and move" rifle in the dark. The flash was so blinding that by the time your eyes recovered and you were able to reacquire the sights, your participation in the fight would most likely be over.
As is, the rifles were useless for serious purposes.
However, with the sunset of the AWB it became legal to fit them with flash suppressors. I did exactly that to one of the rifles in the mid 2000's, using it on-and-off for years.
The second SA58 sat in my safe gathering dust…until recently!
I finally decided to invest in upgrading it and sent it off to DSA to have it re-barreled.
Upon check in I was told their gunsmithing shop was booked out 4+ months. Since the rifle had been doing me no good for 20-years, waiting another 4-months didn't seem like that much. So, I left it and told them to call me when it was done.
To my surprise, 8-weeks later my rifle was finished and shipped.
DSA's pro shop did an outstanding job!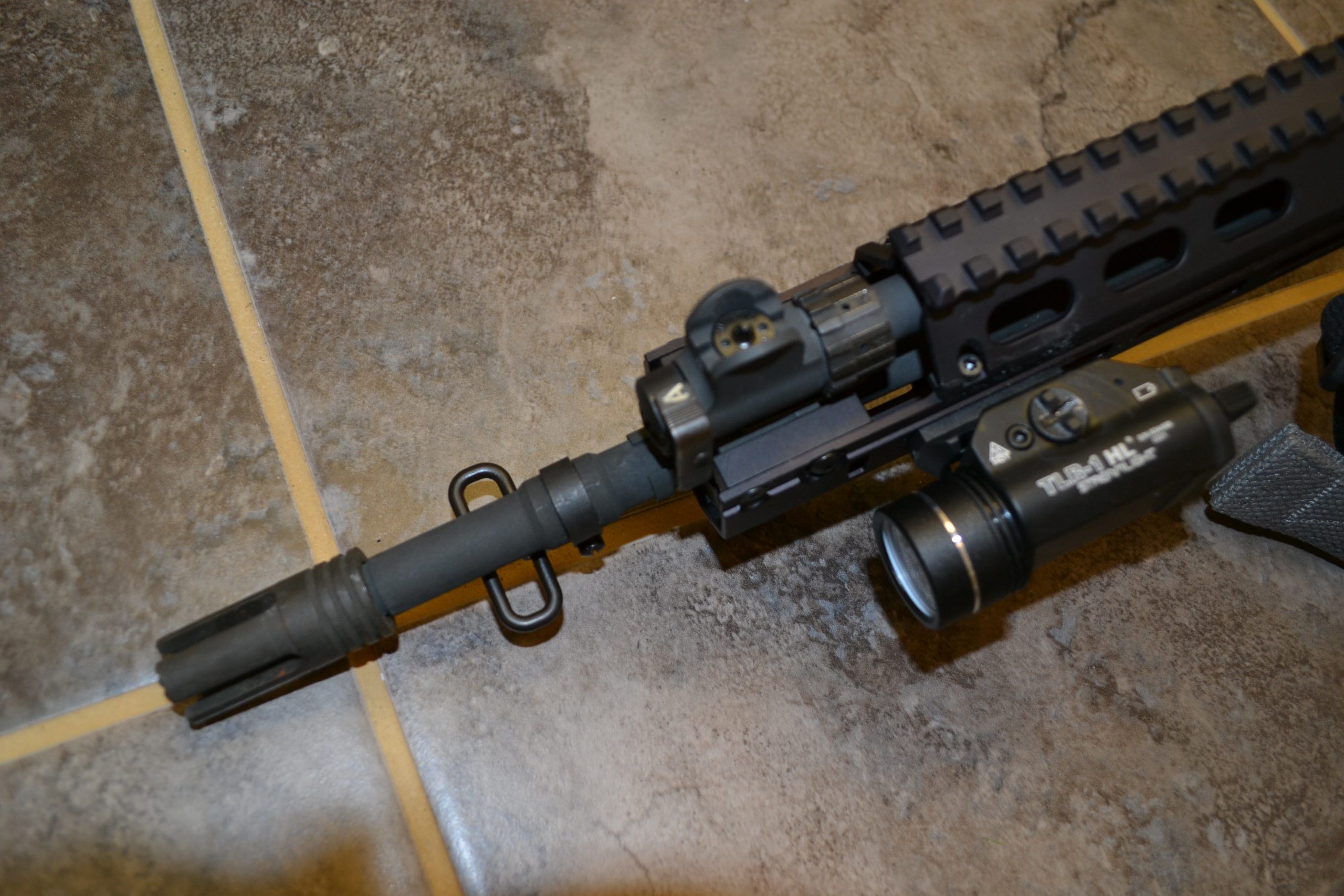 I now have a 16″ barrel with an Austrian flash suppressor, a full-length gas system, as well as a rail equipped hand guard. (Pictured above)
Once back in my hands I added a mid-mount QD swivel and a 1″ side mounted rail for a coaxial flashlight. Both took all of 10-minutes to install as the hand guard has standard M-LOK adapter holes. The addition of a Blue Force Gear Vickers sling finished it off.
As soon as I'm happy with the sling attachment point I'll remove the factory sling loop off the barrel; its just something else to snag things on.
The addition of a red dot or holographic optic is in the future. I want to get a few rounds through the new barrel before I make the investment. For now its zeroed and ready for the next rifle class.
If you'd like to join us in Sturgis, MI, this year, I'll have the DSA with – all present will be welcome to launch a few rounds through it!
CONTACTS
DSArms
27996 W Industrial Ave
Lake Barrington, IL 60010
DSArms website
847 277 7258
Blue Force Gear
79 Columbia Dr
Pooler, GA 31322
877 430 2583