The Shooting, Hunting, Outdoor Trade (SHOT) Show, is the annual gathering of the firearms industry manufacturers and distributors held at the Sands Convention Center in Las Vegas, Nevada. With its estimated 15-miles of tables and displays, this is an event the firearms professional simply can not miss! This year 5 members of the Fortress Staff attended, giving us opportunity to cover more ground!
[
P
olice
P
istol
S
lim] series pistols. Walther, like all other gun makers (sans Colt and Beretta) have bought a Glock-style pistol to the marketplace in order to compete with the police and CCW market. The updated PPS and CREED are the newest additions to the line, and they, in my opinion, posses superior ergonomics. However, take that with a grain of salt as every person's hand/body geometry is different.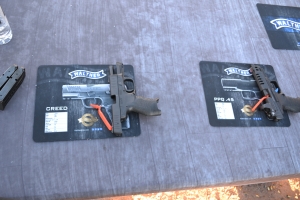 The Creed is Walther's new "economy" priced pistol. Function was flawless. Trigger press was around 6 pounds, but smooth. Reset was crisp. Reversible mag release. Tenifer coated like the original Glocks. The Creed does not have variable grip geometry, which may prove problematic for some in regard to reaching the trigger – and one of our Instructors experienced exactly that – but, with an MSRP of $399, for many it will be hard to beat!  We're curious to see how it holds up under heavy use, so buy one and bring it to class!
Walther's PPS is a reliable, compact, striker-fired carry pistol that has been around since 2007. In 2016 they updated it and designated the new design as the "M2." The M2 consists of minor cosmetic changes with the grip and stippling, as well as front and rear slide serrations, but the major change is a push button magazine release as opposed to Walther's standard mag release, consisting of a lever that extends along the bottom of the trigger guard, which requires a downward press rather than the push button action found on the majority of modern pistols. I find that to be a positive change.
Oddly missing from the M2 is an accessory rail on the bottom of the frame. The rail is standard on the original PPS.
Side note: Walther does not recommend the use of +P ammunition in the PPS, and that poses a conflict with many brands of quality defensive hollow points.
Next was the Inland tent, where we spent time with their wonderful reissue of the M1 Carbine.
Inland is producing a great rifle that is true to the original. Light, low-recoil, accurate, and reliable. Highly recommended for females and shooters of a smaller stature – It makes a great choice for a car gun, as well!

Hailey Ordnance was displaying an innovative suppressor which replaces the entire barrel assembly on the Ruger 10/22 rifle. To achieve the full benefit of a suppressor, use of subsonic ammunition is required to eliminate the "crack" which occurs down range when the projectile breaks the speed of sound. However, subsonic ammunition isn't as readily available, or as cheap, as most standard loads. Hailey has designed a bleed-off valve which can be turned on or off by loosening a lock nut and rotating the suppressor outer tube 45-degrees. This allows gas to escape before the bullet leaves the barrel, causing supersonic rounds to become subsonic, and still function the auto-loading action. We fired it and it worked as advertised – Genius!
With the current administration and the movement towards removing suppressors from the NFA, Hailey may soon have more work than they can keep up with!
CZ had their new P-10 available to demo. It amounts to a striker fired polymer pistol, with a passive safety in the trigger, variable grip geometry, factory stippling, 5lb trigger with crisp reset, and ambi mag release. Any manufacturers looking to compete in the concealed carry market have to produce a gun that resembles and operates like the Glock. The consumer wants it, and the market demands it. The P-10 fits the bill – and retailing for $100+ less, many will find it a welcome price point compared to the Glock. Stippling on the grip was a bit aggressive for my tastes, but that's easily remedied with sand paper. Stippling is all the range these days, and it does serve a place for those who wear gloves when shooting.
Smith & Wesson was present with their upgraded M&P known as the M2.0 [Em Two Point Oh], and they have addressed (well!) all the minor issues I've had with the pistol. The original M&P had an awful, spongy, almost non-existent trigger reset. Most serious shooters simply bought the drop in APEX trigger system to cure it, but it was a three digit investment on a gun that should have never went into production with that design omission in the first place. The new trigger is crisp, teetering on 4.5lbs and a distinct reset (thank Odin!)
They have improved the finish, replaced the ramped rear sight with a design you can actually catch on a belt or table edge for one-handed manipulation, extended the stainless steel chassis to reduce frame flex, improved the finish to better resist corrosion, and included 4 different grip panels (S, M, ML, & L) instead of just three.
On the negative side, they have added front slide serrations – a feature I think belongs nowhere near any pistol as those who use them for chamber checks eventually get part of a hand or finger in front of the muzzle. They've also added aggressive texturing to the grip surface – again, something I could do without. The latter is personal preference, and should not be considered as any kind of "deal breaker."
For those with original versions, Smith has a replacement slide-stop lever that once installed actually produces a strong trigger reset. The only difference between the new and the old is the addition of a small nub that looks to interact with the trigger bar. I'm not sure how that accomplishes it, but all of my original guns now have a proper trigger reset just from swapping that part. Recommended!
Colt has jumped back into the revolver market (perhaps too soon) with the reintroduction of the Cobra double-action.  We hope to eventually get our hands on one that fires all six cylinders, as the two samples present didn't.
A hearing protection company called Decibullz made a brilliant PR move and gave away free samples of their custom molded earplugs to anyone who wanted them.  The two piece unit consists of an outer shell and an insert – the outer shell is placed in warm water until it becomes pliable, then the insert is added, and the whole affair is pressed into the ear where it forms to the user. They are non-electronic, but because they are custom fitted to the individual, they do remove and reinsert with ease. Decibullz offers the same design as an insert earphone set.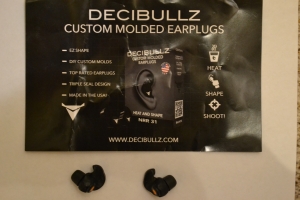 We wore ours for a good portion of range day and they not only worked, but were quite comfortable.
One interesting point – if for some reason they deform, the user can pop out the insert, then re-warm and reform the outer shell.
Cost on their website is $70.
Other hearing related news on Range Day – Howard Leight, manufacturers of full-coverage electronic hearing protection, are now offering their popular Impact Sport series in a variety of colors. We see the OD Green version on the range regularly, but black, purple, teal, pink, and camo are now available! A subtitle, yet important, example of an industry that is starting to understand that not everyone wants everything OD green or camo colored, or that women only buy pink.
The big firearm news at SHOT was the announcement of the Pentagon's adaptation of the Sig320 as the new service pistol of the US Military. The 320 trigger mechanism is actually the serial numbered part of the firearm, allowing for frames and slides to be swapped out to different calibers and sizes. Of course, the Pentagon will be requiring that the military version's mechanism be removable only at the armorer's level, and they are requiring the additional manual thumb safety.
It seems like a step in the right direction, but one has to wonder if individual soldiers will ever see a choice of frame size. My guess is that in the end military logistics will default the entire program to "one size fits all". Time will tell.
Tuesday through Friday was the trade show proper. We attended all 4 days, and here are a few of the highlights we saw:
Phalanx Defense Systems now produces a left-handed version of their kydex Stealth Operator holster. The Stealth will fit over 150 different handgun models and is perfect for Instructors who often have students show up to the range with inadequate holsters.  The Stelth is a lighter gauge kydex than most holsters, so I'm not sure how it would hold up over time for daily carry, but with a list price of $39 there's little excuse for Instructors not to have a few in their range bags!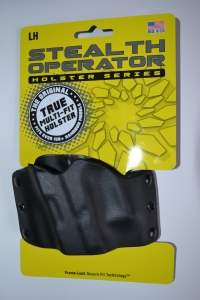 Phalanx Defens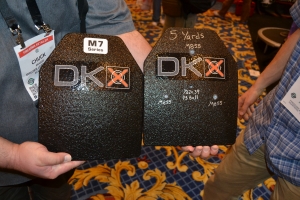 e is also the parent company of DKX Armor. This year DKX introduced their M7 series rifle plates which will stop the M855 steel core 5.56 round as well as the 7.62×39 mild steel round! Made of Ceramic/Polyethylene, the M7 plate is the lightest we've ever held, and like its original M3 brother is buoyant. DKX is also offering an industry first 7-year warranty!
Many of the Fortress Staff Instructors, including myself, keep DKX plates in our emergency kits. I trust my life to them!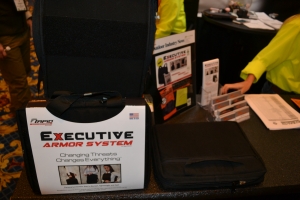 Also from Phalanx is the Executive Armor System – an immediate action Level 3A soft body armor that zips up in a laptop computer bag-sized space. The user simply unzips it, throws it over their head, and buckles it at the waist. Offering light, quick, front and back protection, this is a brilliant set-up for schools, EP agents and clients, as well as anyone who wants to have armor with them but can't wear it all day. Priced at $300.
…Also On The Holster Front

The wonderful Gregg Garret of Comptac showed us their new mag carrier design. Now all Comptac carries are able to fit either left or right side carry. The end user can switch it out in a minute.  We will be adding some to our rental box asap!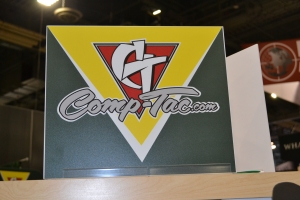 Comptac is also selling a multi-gun holster called the Q-line – 4 holsters, that between them, will accommodate most popular auto-loading handguns. The Q-line is offered as IWB kydex, OWB kydex, and hybrid leather/kydex  IWB. They price around $50. Excellent for daily carry! And may prove a good investment for those who switch out guns on occasion!
The ever hospitable Michael Goerlich at Raven Concealment was showing off their wonderful Vanguard II minimalist holster, which is now equipped with the "claw" device that allows the wearer to angle the stocks of the pistol towards the body, as well as helps keep the pistol from unwanted canting. They have an upgrade kit for original V2 models that includes two claws (left or right handed) and two belt overhooks (1.5" and 1.75") that eliminate the snap loop and allow for tuckable use.
I find the Vanguard to be the answer to the safety issues debated about with appendix carry, as one has to snap the V2 over the trigger guard before attaching it to the waist. No, it does not make for a fast re-holster, but it does make it all but impossible to interact with the trigger while doing so.  I carry one daily.
We've been running a Raven Eidolon holster in classes for the past year, and staff and students love it! It offers the best of all worlds allowing the user to customize, inside or outside the waistband, left or right handed, one or two belt loops, loop positions, canting, and angle towards or away from the body. Brilliant design and highly recommended!
At the Aker Leather booth, Kenan Aker ran us through their offerings. One of the highlights of their design is a polymer strip that is sandwiched between the inner and outer layers of leather at the mouth of the holster. This helps prevent the top edges from collapsing due to wear, temperature, and moisture – providing a positive, no fumble re-holster.
They've taken the same concept to the leather gun belts, and run a strip of polymer through the center, preventing the roll-over so many belts experience with the weight of a pistol. Holding up your $600 pistol with a $10 belt is the sign of an amateur. If your require a belt for carry, get quality!
Aker has developed some great ideas and are recommended for those who prefer all-leather holsters. Aker provides models for most common pistols (in leather, and some in shark skin) – right or left handed – as well as duty belt equipment pouches. Aker is a family business that cares about quality!
Speaking of leather holsters, our female Instructors spent some time with Tom Kulwicki at the Alessi Leather booth and all ended up with copies of an inside the waistband holster that features what Tom calls a "talon nyclip". It's a clip device that holds the holster firmly in place without a belt, which appealed greatly to the females who tried it out, as eliminating the need for a belt offers more options with women's fashion and workout wear. (For the men reading, you may not have noticed, but most women's pants don't even come with beltloops, as most women don't need to wear belts because of the shape of their hips.)  We'll have a report on it from one of our female staff members at a future date!
Ammunition Highlights
Pete Pi and his son Peter Jr., of Corbon, were proudly displaying their new lines of range/practice ammunition: The 'Range Pro', comprised of all new components, and the 'Affordable-Remanufactured Range', which is assembled using once fired brass.
The Corbon Range Pro is now available is various 9mm, .223 Rem, and .308 Win calibers. The ARA is available in 9mm and .223. Competitively priced, and, if like all other Corbon products, will be of the highest quality production in the business.
Reloaders take note – Corbon's in-house manufactured DPX projectiles are now available in.380, 9mm, 40 S&W, and 45ACP.
Justin Evans of Lehigh Defense spent time with us explaining the benefits of Lehigh's new Extreme Defense Fluid Transfer Monolithic (XD FTM) bullet design. It's a solid projectile with scallops cut into the sides reminiscent of a drill bit. There is no cavity, nor does it "open" or fragment when it contacts flesh. What it does do, according to testing, is open up rifle velocity-like temporary and permanent wound channels thus not seen before with pistol caliber projectiles, along with 18" of penetration through 4 layers of denim into gel. …and the 9mm version only weighs 90-grains!
Lehigh is devoted to the cutting edge, and we expect they will continue to lead the way in solid projectile design! Time will tell, but this may be the new technology that revolutionizes carry ammunition. We hope to acquire samples for testing soon.
Medical News
TSSI was displaying an excellent medical bag, the M-10, and Tom Little was kind enough to run us through the details.
The M10 is a back pack-style bag with a separate bottom compartment that can be collapsed and held down with compression straps. When opened, it exposes four pull-out pouches, as well as elastic keepers on the inside of the front cover, used to store instruments, needles, caths, tape, and anything else you can think of needed for quick access. At 370 cubic inches, this is a serious bag for range, car, or home! The M10 is available in a number of colors, and can be purchased as is, or with the end users choice of common medical supplies from TSSI's inventory. Everyone reading needs to consider a real trauma kit (and training!) as soon as possible. Being properly prepared means having proper organization!
North American Rescue had their wears on display, including the outstanding Combat Application Tourniquet [CAT]. Now on it's 7th generation,  updates are a beefed up windless and subdued color closure flap. Of all the TQ's available, we find the CAT most desirable as it is quicker to apply to one's self. The SOF-T is a fine tourniquet, but the downfall is attempting self application over slick material like many winter coats and rain gear are made from. It can be a serious trial to get the slack taken up, and we don't have that issue with the CAT. If your only concern is application to others, both are great.
Another minor benefit of the CAT is no metal parts, so if you walk through magnetometers often it's one less thing to empty from your pockets.
Performance Systems, makers of the outstanding Israeli Battle Dressing [IBD], had samples of their new line of hypothermia prevention products. Company rep and all round wonderful guy, Leonid Kalmanovich, ran us through the choices available, which are too many to list here! But to give you an idea, they are in blanket, tube, or pants/jacket style, green, silver, or orange in color, and they also offer the blanket with heat pads, as well as baby wraps for infants!
Their new thermal protection is the old space blankets on steroids! Not only great for treatment of shock, but perfect for the backpack and vehicle emergency kits! Get some!
PerSys has also developed a proprietary chest seal they're calling the S.O.S, for Secure Occlusive Seal. Small for carry, easy open, separates from backing with little effort, adhesive works well on wet skin, and it offers 4 valving air bleed offs. Nice design!
How do you beat the Israeli Battle Dressing? You make it better! PerSys has taken a standard IBD and added a fold out gauze pad that can be used to cover a larger wound, or torn in half to give the user a second pad for an exit/entry wound. They have also included a gauze roll stuffed into the bandage leader, giving end users the option of packing wounds or doubling up the bandage gauze pad. The new IBD is called the Tactical Trauma Treatment (or, T3) and is available in all the standard IBD sizes. It offers no noticeable size difference in storage, and I'll be changing out all the bandages in my kits to the T3 design. And why wouldn't I? It's the same bandage but more versatile!
Leonid also introduced us to the 'Wound Stop' line of bandages. They amount to IBD's without the pressure bar. The small version pictured below is perfect for kids to carry with them to school, or while out playing. The Wound Stop provides a lighter, smaller bandage tailored towards standard first aid kits. Available in 4 and 6″, as well.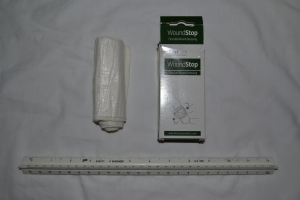 Lastly, PerSys has their own EMT Sheers – They appear to be 10-20% smaller than standard sheers, but do the exact same job. Great for kits where space is an issue.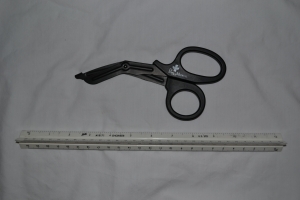 Performance Systems is the industry leader in bandage design – all of us not only need to stock up on multiple copies of their products, but carry them daily!
Miscellaneous
There are a number of companies addressing the demand of "low profile" rifle cases. Not a new idea as the gangsters of the 1920's were using viola cases for Thompson Submachine guns. And, today's riflemen (and women) are not interested in broadcasting to the world that we are transporting firearms, either. Not because we're engaged in criminal behavior, but because of the potential of theft, and/or the alerting others with opposing political views might result in interactions that will not be beneficial.
10-years ago the best one could do is buy a sports equipment or musical instrument bag/case and press it into service as a "stealth" transport container. It worked, but it was never optimum as it required time and effort custom fitting foam inserts, etc… Well, not anymore!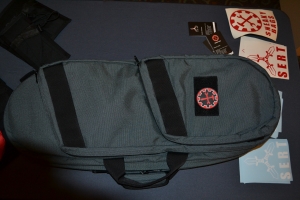 Our favorite this year was by Sneaky Bags. Jessica Leber was kind enough to show us their full line of products, the Spider Covert Rifle Bag (CRB) being what caught our eye.  Looking much like a snowboard bag, there's space for two rifles separated by a center zipper pouch for magazines and accessories. The magazine keepers are elastic straps which will accommodate all modern rifle mags in 5.56, 7.62×39, and 7.62×51. The CRB has two outside pockets with Velcro backing sewn in for their mix and match accessory pouches.
The CRB has rigid panel inserts sewn into the outer shell, providing structure and durability. The versatile carry straps are designed to be used two at a time in backpack fashion, or one at a time over the shoulder.
Sneaky Bags are available in 27″, 31″, and 36″, covering most modern folding and collapsible stock  rifles, as well as blue, green, coyote, and grey colors.
Highly recommended!!!
Along the lines of living a stealth existence, Tactical Walls offers a full line of furniture and shelving units with hidden compartments for safe, secure, and discreet storage of firearms. Quality craftsmanship with ingenious locking mechanisms. The time to secure your small arms is NOW! If you think hiding your guns is expensive, try replacing them.
UTM (Ultimate Training Munitions), makers of paint marking training rounds and firearm conversions (the competition of Simmunitions) have introduced a product we have been fantasizing about for 10 years: a clear training mask that protects from paint and airsoft rounds, yet allows students to see facial expressions! In most Force-On-Force/Scenario-Based training, full face protective coverage is mandatory, and up till now amounted to opaque face masks that result in everyone involved looking like Darth Vader. Small nuances in facial expression can make all the difference in real life defensive decisions; UTM has now made it a practical reality in training!
Non-fogging, allows for normal voice levels to be heard, and the clear shield has a full-replacement warranty!
The legendary trainer Brian Hoffner, of Hoffner Knives, Holsters, & Covert Apparel, was impressing everyone passing his booth with the quality and craftsmanship of the entire Hoffner line.
New for 2017 is the Hoffner Sub Sea Spear – The dive knife to end all dive knives! Coated in a proprietary process that exceeds the ASTM G85 annex A5 salt spray test. Brain told us it was exposed for 3000-hours without sign of corrosion!
The knife comes equipped with a lanyard that is ingeniously fixed to the sheath. The operator passes their hand through it before drawing the knife, leaving the lanyard around the divers wrist.
The Sub Sea mimics the standard Hoffner Hand Spear, but adds and aggressive serration to the aft end of the blade for rope and heavy cutting issues at sea.
None of us have ever been let down by our Hoffner's – HIGHLY RECOMMENDED!
On the flashlight front, a number of us acquired copies of various Powertac lights. Out of all the E6 and the Sabre are what most of us have settled on as our daily carry favorites.
The Saber is a pen light that works well in med kits and pockets – Tail cap actuating button that is NOT momentary, but does have different brightness levels and a strobe function. Runs on two AA batteries. Retails for $46
The E6 is a standard "tactical" light with momentary/on-off tailcap button, but also has a secondary button on the rear of the body to actuate the strobe function. The separate barrel mounted strobe button is something I think all defensive lights should have. The idea of scrolling through functions under stress in order to locate the strobe is a pipe dream. This design allows the user to activate it instantly with either the thumb or index finger.
Bezel is machined with aggressive teeth for use as an impact device. 700-Lumen, runs on two, 123 batteries. Retails for around $80.
Powertac lights carry a lifetime warranty.
Defense Contractor conglomerate, Lancer Systems, had their M4/AR15 and 7.62×51 magazines on display. Friend and fellow DTI Alumnus, Ross Botha, showed us around the line.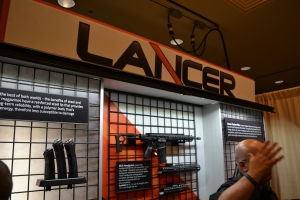 The design incorporates a smokey, translucent polymer with hardened steel in the wear and mating points of the body. The smokey plastic allows users to get a visual on their remaining rounds. The majority polymer construction keeps weight down, with the addition of steel creating robust feed lips as well as positive, non-wear locking points.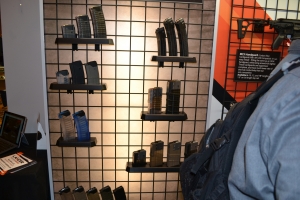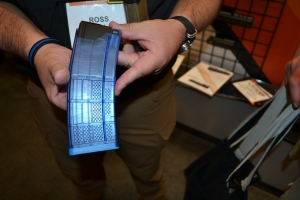 The 7.62 version is equipped with a manual valve under the baseplate. Apparently, magazine buoyancy has been an issue with special forces working in water. The 7.62 mags actually retain enough air that they float/roll those carrying them in chest rigs over, and divers towards the surface! Lancer created a bullet tip activated valve that ports water. When operators know they will be swimming in, they simply vent their mags accordingly during preparations. The valve can be kept closed for dust during normal usage. Brilliant!
Miscellaneous pictures and celebrity sightings…
Fortress Staff Instructors Tommy Teach, Tricia Ellison, Chuck Skaggs and Matt Ellison contributed text and photographs to this report.